We are a New York City-based Burning Man theme camp.
We are a merry band of adventurers from New York City and around the world. We see ourselves as an extended family that loves to have fun together.

On-Playa, we gift whimsical "what your mom warned you about" events to fellow Burners including: Strangers with Candy, Running with Scissors Relay Race, Put-Your-Eye-Out Shooting Gallery, Playing with Fire, and more.

Off-Playa and year-round in NYC, we host and participate in shenanigans involving adventure, art, music, exploration, charity, and Radical Self-Expression. We love to have fun and strive to recreate the wide-eyed wonder and whimsy of the Playa in everything we do.

We uphold the Ten Principles and do not tolerate discrimination over race, color, nationality, ethnicity, age, religion, disability, gender, gender identity, sexual orientation, nor sexual harassment and other sexual misconduct.
Follow us on Facebook to see upcoming events where you can get to know us better.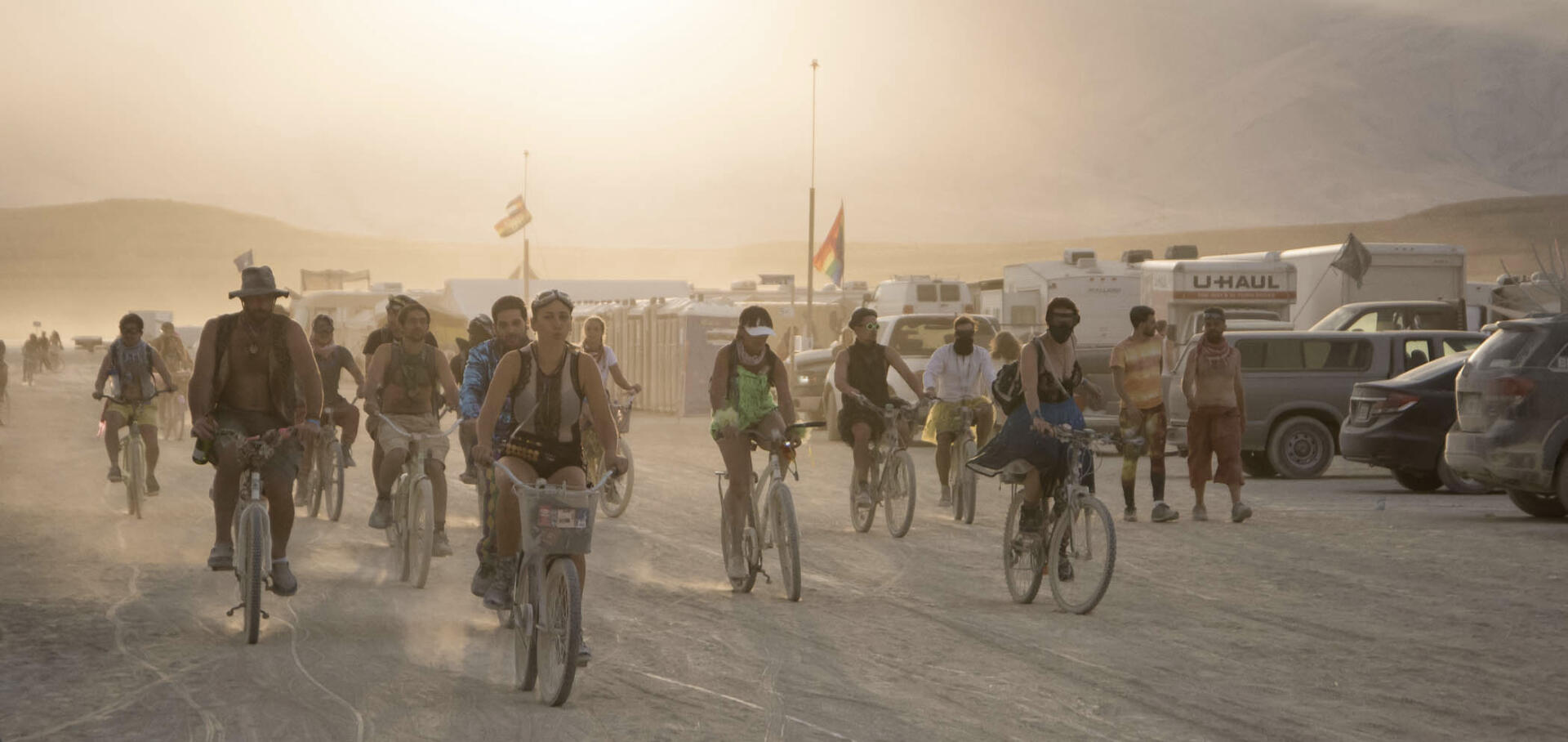 How to join New York Dangerous
Participation: Get to know us by coming to NYD events throughout the year. Follow us on Facebook to see upcoming activities. We regularly attend Burning Man happy hours, and we host many fun events across the city as it gets closer to the Burn.

Communal Effort: Show us through your deeds and acts at our events that you will be a strong addition to the camp. We look for people that gel well with the camp, appreciate the 10 Principles, and are willing to work hard and contribute.

Sponsorship: Once you feel you know us well enough, AND a veteran NYD camper is willing to sponsor you (i.e. vouch for your awesomeness), ask them to nominate/sponsor you for membership.

Note: All 2020 campers are REQUIRED to commit to either on-Playa build (Friday and Saturday) or breakdown (Sunday and Monday morning), as well as the volunteer role of their choosing during the event.

Frequently Asked Questions
What does NYD provide?

Your camp cost share goes towards providing everyone with communal shade, frontage, fresh water, a kitchen with cooking equipment, a personal item recharging station, some communal meals, and our famous interactivity. We even have a shower with working water pressure!

You can also rent a camp bicycle for an additional $100. These will be available on-Playa for you.

Do you provide tickets?

We do not promise or provide anybody an event ticket. However, we will do our best to help.

What are the work requirements for campers?

All 2020 campers are REQUIRED to commit to either on-Playa build (Friday and Saturday) or breakdown (Sunday and Monday morning). You must also take 1-2 activity shifts of 3-4 hours during the event (e.g. running the shooting gallery, cooking a communal meal, etc). Burning Man means Communal Effort & Participation. Without everybody pitching in, the camp will not run.

We will post more information about shift sign-ups towards the end of the summer.

Can I come early or stay late to help in Reno?

We start our preparations in Reno the week before the Burn (build week) with cleaning, sorting, and repairing camp equipment. In 2020 this will be Aug 24-28. Then we need people for a few days after in Reno during Decompression to clean and load everything back into our Sparks storage space. We will provide hotel accommodations for those that join us.

So how do I prepare for Burning Man?

See the links below for help preparing for that thing in the desert (TTITD). Use Radical Self-Reliance, yes, but NYD vets and leads are also here to help you.

Do you provide power and water for RVs?

NYD does not provide power or water for RVs, but you can coordinate with our fresh and gray water vendors to have your RV filled up or pumped out.

We do have a charging station in the kitchen for campers but it's only for smaller items like cameras, phones, and USB battery packs.

What if I'm vegan or have a special diet?

We will have a vegan option at each camp meal (how many meals we will provide is still TBD) although we cannot guarantee 100% of our cooking implements are vegan.

Can I use the kitchen to cook my own food?

All Dangerpeeps can use the kitchen to cook meals, but you must keep the place clean, wash all cooking implements, and not interfere with camp meal preparation. There is NO personal use of our freezer or refrigerator - get a cooler.
New York Dangerphotos
New York Dangerous on-Playa
Our interactivity, lifestyle, culture are about building a feeling of family, whimsy, and fun on-Playa.
Reno / Build / Teardown / MOOP Sweep
Clean and prep, loading stuff, building stuff, and MOOP sweep - all part of building NYD and Black Rock City.
New York Dangerous Camp Setup
Shade structure interior/exterior, our public facing Living Room, kitchen tent, and showers.
© New York Dangerous. All rights reserved.